s e r v i c e s
In-House Digitizing - The quality of embroidered merchandise is subject to the digitizing artist's interpretation of the design and its application.

At Austin Monogram & Embroidery our digitizer happens to own the company and your ultimate satisfaction begins with his own pride in workmanship and design. One time set up charges are based on content & size of the logo requested. Standard prices will range from $25 to $100 for custom designs. Sewn out proofs are provided prior to production for approval and sign off.
In-house Digitizing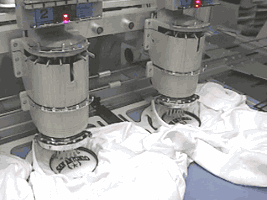 On-site Embroidery
Showroom and Sales Reps - Visit our showroom or request an outside sales representatives. Production tours are available. E-mail us for more information.

On-Site Embroidery - Because Austin Monogram & Embroidery performs all services on-site, customer satisfaction is guaranteed.
Delivery - Austin Monogram & Embroidery has never missed a known delivery date! Standard delivery is 2 weeks from date of order and your merchandise is delivered individually folded & boxed in clean packaging, with contents clearly labeled.

Buy Direct - Ask About Our Volume Discounts